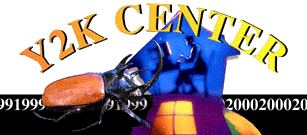 National Electronics and Computer Technology Center (NECTEC))
National Science and Technology Development Agency (NSTDA)
Ministry of Science Technology and Environment (MOSTE)

---
Duties and Responsibilities :
Function as a Y2K information center.
Follow up and evaluate the Y2K remediation plan of the government.
Function as a resource center for Y2K tools and equipments for coordination.
Function as a Y2K coordinating center between public and private sectors.
Organize meetings and seminars for raising Y2K awareness with the public and the different target groups concerned.
Study and develop standard methodologies in Y2K remediation.
Assist the public and private sector in Y2K matters.
Set up a hotline for providing information concerning Y2K matters.
Disseminate knowledge and understanding through a website and other media.
Compile and assess Y2K - related data of the government sector.
Report on the progress of Y2K remediation to the cabinet.